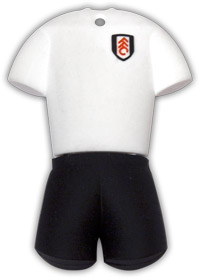 Following the lead of other UK and European football clubs in choosing 10th Planet's USB Division to supply custom shaped USB sticks, Fulham FC has selected WeAreUSB to design and manufacture a unique custom USB in the form of the current Fulham strip. The project was managed from design through to delivery by the UK's leader in custom moulded USB and has already proved to be a success.
"The Fulham FC kit USB has already proven very popular and is an exciting and modern promotional item" said Catherine Gurney at Fulham FC.
The custom shape service offered by WeAreUSB allows for virtually any shape to be created as a USB and in the case of Fulham was a miniature player in the current Fulham strip manufactured from a highly tactile recycled PVC rubber. The popularity of custom shape sticks has increased since initially being used primarily as a promotional item, they are now gaining acceptance as a retail product. Sports clubs and sporting goods brands have realised the potential of a unique branded USB as both a marketing tool and value added retail product. With the ability to add content (video, audio, images) to the sticks a further revenue stream can be generated for existing catalogue.
WeAreUSB has created custom shaped USB for brands as diverse as Fyffes Bananas, Bayer and Puma in addition to printed USB for a wide range of clients including Vodafone, Blackberry, BBC and Accenture.
Form more information on custom shape USB or other branded USB products see www.WeAreUSB.com