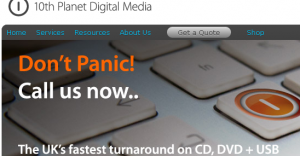 The new design and build was carried out by 10th Planet's in house web development team and adds a host of information resources covering topics such as CD print methods, disc capacities and how to supply artwork for CD printing.
With the wide variety of CD and DVD print methods available, the resource pages outlining the advantages and disadvantages of each print method and giving pointers in how to use print methods creatively.
In addition articles explaining the technical background and differences between DVD Replication and DVD Duplication make this a valuable and authoritative resource for all duplication and authoring needs.
A comprehensive section on CD and DVD packaging also details virtually every option available for bespoke and off the shelf disc packaging making it a good starting position for any disc project.
CD Duplication and DVD Duplication provide a cost effective means to distributing promotional content and presentations. Combined with impressive and high quality packaging, a disc makes a longer lasting impression than an easily delete-able email.
Content is not limited to data but can include high quality video and even provide copy protection for pre release material.
In addition to CD and DVD services the website covers 10th Planet's video transfer, DVD authoring file to tape play out and broadcast master preparation services.
Let us know what you think of the new site, email us!